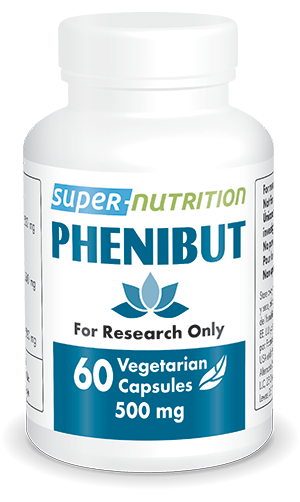 Phenibut 500 mg
60 vegetarian capsules
is available
Phenibut supplement for promoting euphoria and tranquillity
Part of the Russian pharmacopoeia for treating a wide range of symptoms related to agitation.
Used for easing the mind, releasing tension or preventing stressful episodes.
Taken for short periods only.
Certificate of Analysis
Daily serving: 2 capsules
Number of servings per bottle : 30

Quantity
per serving

Beta-phenyl-gamma-aminobutyric acid
1 000 mg
Other ingredients: Acacia gum, rice bran.

Each vegetarian capsule contains 500 mg beta-phenyl-gamma-aminobutyric acid.
Take one vegetarian capsule twice a day for 2 weeks. Stop for 15 days, then resume, if necessary, for another 2 weeks
Also available at Super-Nutrition: