GHK-Cu Tripeptide 5 mg
60 sublingual tablets
GHK-Cu 'anti-ageing' complex used in research
Small natural peptide with huge therapeutic potential
Offers several biological effects against ageing
Modulates expression of around 30% of human genes
Sublingual form used in research
Copper-peptide glycy-histidyl-lysine complex (GHK)
5 mg
Other ingredients : sorbitol, xylitol, stearic acid, peppermint flavouring, stevia extract .
Keep out of reach of young children. Store away from light, heat and humidity.
Also available at Super-Nutrition:
Powerful substance for increasing and maintaining muscle mass
60 tablets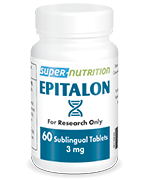 Scientifically-proven rejuvenating effects - now available to everyone!
60 sublingual tablets
A major advance in the quest to increase life expectancy
100 ml