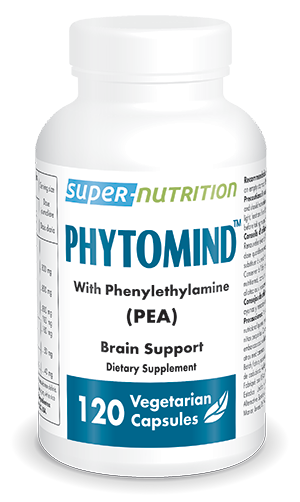 PhytoMind™
120 vegetarian capsules
in stock
Sensational "PhytoMind" formulation for stimulating brain activity
Contains significant, effective level of Phenylethylamine (PEA).
Synergistic action with other stimulant compounds - Bacopa monnieri, Ginkgo biloba, Eleutherococcus.
Certificate of Analysis
Daily serving: 4 capsules
Number of servings per bottle: 30
Quantity per serving
Klamath's Best® Blue Green Algae Powder (Aphanizomenon flos-aquae powder) containing approx. 4 mg of phenylethylamine (PEA)
800 mg
Bacopa monnieri (20% bacosides)
100 mg
Mucuna pruriens (20% L-dopa)
100 mg
Ginkgo biloba (24% ginkgolides, 6% terpenes)
50 mg
Siberian ginseng (0.8% eleutherosides)
40 mg
Other ingredients: Acacia gum, rice flour.
Klamath Valley Botanicals, LLC, USA.
Take two Phytomind capsules in the morning on an empty stomach - the dose may be repeated mid-afternoon.
Also available at Super-Nutrition:
in stock

A bioavailable form of lithium with proven efficacy
90 veg. caps.